Merlin OEE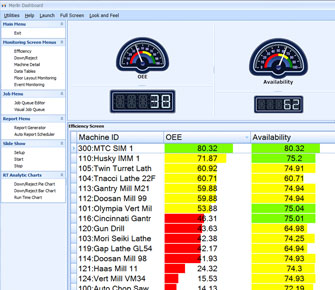 Memex's MERLIN is a fully featured Manufacturing Execution System (MES).  The system is renowned for its ability to be easily installed in either small operations or major machine tool facilities.  The MERLIN advantage allows almost any machine to communicate to the system without lag or delay. MERLIN is designed to be both vertically integrated, shop floor to top floor, and horizontally integrated across the shop floor. The MERLIN MES system includes features like: production data collection, downtime and reject analysis, productivity tracking, usage-based preventative maintenance, production scheduling, and operator productivity assessments. Specialized strain sensors and accelerometers measure and modify tool vibration.
Dashboards show real time evaluations of machine productivity, as well as gathering historical data. Data will help to identify any factory inefficiencies and equipment idle periods that require improvement. These dashboard metrics can be made available for the whole shop floor to see. This means that if any problems arise, they can be resolved swiftly. With MERLIN, increases in productivity between 10% and 50% are very common, as is increased profitability.
MERLIN Automation is an industry pioneer and leader in managing machines and processes in manufacturing. The system can be applied to any application and used to monitor and control machinery.
In addition to manufacturing industries, many other non-manufacturing businesses can also benefit from utilizing a MES system to improve efficiencies.
Even the most sophisticated multi-tool CNC machines can be incorporated into a unified MES monitoring and controlling system. Each CNC machine connection is controlled independently, allowing it to be configured and controlled individually. There is practically no limit to the number of CNC machines which can be connected to the MES system. Some applications may be better suited for the MERLIN Lite MES, which has many of the same benefits of the full MERLIN system, and is ideal for less complex applications.
With this time and money saving solution, you will start seeing an improvement in your bottom line in a matter of months. MERLIN will help you understand exactly what is happening at the machine level.  With this time and money saving solution, you will start seeing an improvement in your bottom line in a matter of months.
The key benefits of the MERLIN MES include:
Cost Effectiveness
Proven & Practible
Expandability
High Compatibility With All Machines (CNC, non-CNC, PLC, Presses, Injection Molding & More)
The key software features include:
Job Queue (Supports Connection to any ERP Package for Scheduling Orders)
Visual Job Board (Graphically Display & Manipulate Jobs)
Active Status 2D Floor Plan (Visual Layout of the Plant Floor Including Current Machine Status)
Report Writer (SAP Crystal Using XML, with Extract, Transform and Load Functionality)
Automated Reports (Send Out Reports on a Scheduled or Real-Time Basis)
Microsoft Software Development Tools from Microsoft (Visual Studio 2010, DotNet Version 4, & Windows 7 Compliant)
MS-SQL Database Support (With Windows Server 2008)
Visual Customization (Specialized Display Skins & User Interface)
Customizable Dashboard (Fit it to Your Specific Requirements)
Multiple Languages
Additional Information
To request more information about TMAC fill out the form below or call 803-994-9598.